Features
By default, Axolo will create a Slack channel for every new pull request opened by one engineer onboarded.
💡
You can choose not to create a Slack channel by adding _noslackchannel in the initial comment when you open a pull request or use our label manager.
Axolo reacts to four kinds of notifications from GitHub.
Issue comments & code review comments
Axolo is complete Slack-GitHub integration. Slack messages in pull request channels will create issue comments in GitHub, and code review comments in GitHub will create dedicated Slack threads (and conversely).
If you sign in with your GitHub and Slack profile during the engineer onboarding, Axolo will be able to write these comments on your behalf.
Pull request checks
When all your pull request checks are completed, Axolo can send you a summary with the status of each check-in in the PR channel. If each commit creates new PR checks, we only send a new notification if the overall status of the checks has changed (success -> error)
Deployments
Each deployment notification concerning repositories linked with Axolo will be sent directly to a dedicated _axolo_deployments channel. These notifications are composed of the id of the deployment, the creator, the status, and the name of the deployed branch.
You can set up Axolo to send you open PR summary on a daily basis. Select what team should be involved (the whole organization or a specific team), what day the PR summary should be sent and the time, and keep your stand-ups short & productive!
Introduced in August 2022, code snippets allow you to visualize your code directly in Slack whenever there is a code comment.
Axolo doesn't have access to your code, for this feature to work Axolo relies on the official Slack GitHub integration. Axolo creates a permalink to your code and sends it to Slack. This way the official GitHub - Slack integration can show you your code.
This feature automatically turns on if your Slack has the GitHub-Slack integration. If you want to turn it on or off contact support.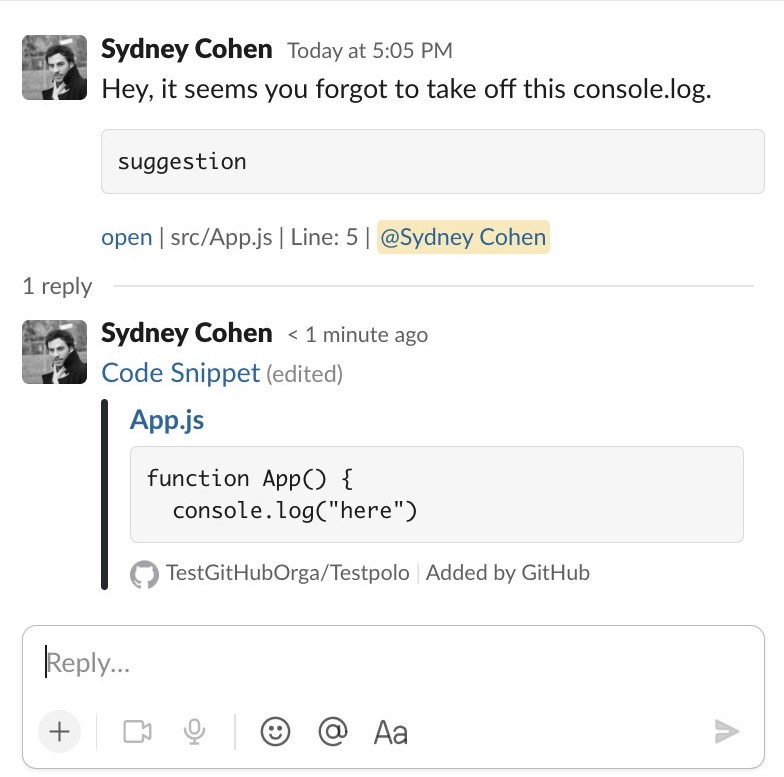 /lgtm (optional) comment is an Axolo command. The LGTM (Looks Good To Me) command will approve the current pull request in GitHub. You can add an optional comment to the review.
By clicking on the Axolo bot in your Slack you can have access to your open pull request
| Title | Description |
| --- | --- |
| PR Awaiting your review | PR you've been assigned to that you need to review |
| Your draft PR | The PRs where you are the creator that are in draft mode |
| My pending PR | The PR where you are the creator and where you are awaiting review from one of your peers. |
| All other open pull requests | Everything is in the title :) |
Find all your open PRs with one simple command:
/axolo open to show all open PRs of your organization,

/axolo me for your open PRs,

/axolo team [team name] to show all PRs from a specific team.
You can choose not to create a Slack channel by adding _noslackchannel in the body of your soon-to-be GitHub pull request or using a specific label in our label manager.
Each engineer onboarded on Axolo can find its time slot settings in its Axolo home in Slack. Anyone can create its code reviewing slots and Axolo will only invite the reviewer in its dedicated time slots.
For now, every working day will share the same slots (from Monday to Friday).
By default, Axolo will create the following bookmarks. They automatically update whenever there are changes to your pull request on GitHub. From the example below:
| Example | Number explanation | Links to |
| --- | --- | --- |
| PR #449 | The number of the PR | Linking to the discussion of the pull request in GitHub |
| Commits (5) | Amount of commits | Links to the commit page |
| Checks | N/A | Links to the check page |
| Files Changed (29) | Amount of files changed | Links to the changed files |
| diff +765 -279 | Additions and deletions | Links to the changed files |
| Jira Ticket | N/A | Links to the relevant Jira ticket. (Only works if Jira integration is added and there was a Jira ticket provided in the pull request title or branch) |