Enable your team
to merge

pull requests

faster
Collaborate on pull requests in single-purpose ephemeral channels
You're in good company.
backed by

Merge your PRs 30% faster

Pull requests are merged 30% faster on average with Axolo. No more pull requests that go stale.

Inbox zero for code reviews

As a to-do list of open pull requests, Slack becomes your inbox zero for code reviews.

Bring back focus for engineers

Engineers should only focus on their current development, not their past open pull requests.
Be 10x productive
Each pull request creates an ephemeral Slack channel. Reviewers and assignees are invited and notified with the right information (comments, CI/CD, GitHub Action, deployments, checks) in order to process the pull request in due time.
End context-switching
Handle code reviews from your Slack channels. Every comment from GitHub will be sent to Slack and vice versa. Axolo integrates with your favorite tools and keeps the context in your channels. Connect Axolo to Jira, Sentry, and all your GitHub applications.
Organize your pull requests
All your team's pull requests are displayed in Slack. You can check in seconds if a colleague is awaiting a review or if a pull request goes stale.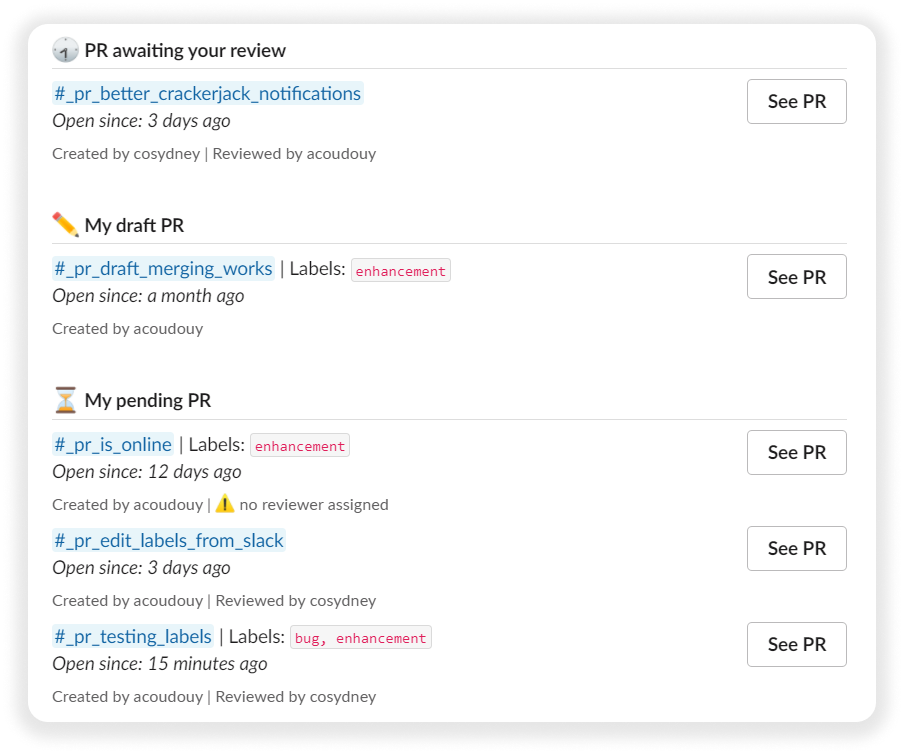 Stay alert
Passively receive updates for your deployments, Github Action and checks in their specific channel. Select only the status you'd like to receive (success, error, ...).
Be focused when you code
Organize your time with code review time slots and let Axolo notifies you only when you're available. Save your development sessions from distractions.
"Curebase Engineering has been using Axolo for the last 2 months and our developers have really enjoyed the increased focus it brings, which is especially important as our team grows. As a fully remote organization using the correct communication tools is vital, and Axolo balances things nicely."

"Our team lives in Slack. Axolo makes collaborating on PRs more natural and inclusive for the whole team."

"Team has loved so far - much easier to track who's assigned to what without annoying everyone. Also, love that we can discuss solutions in Slack."

"Axolo is game-changing when it comes to creating interaction between tech team members. It's helping us at RocketChart to start and centralize PR discussions on Slack. Giving feedback on features is now easier and faster. As Slack is our main productivity tool, Axolo has flawlessly settled in our working habits."